LEARN TO DIVE COURSE OPTIONS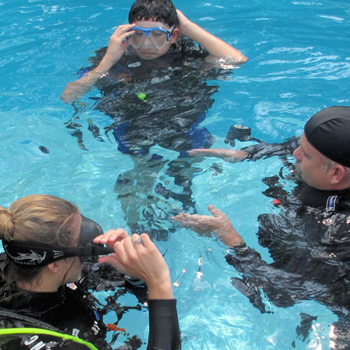 All basic courses include:
FREE Online NAUI class, pool sessions, entrance fees to the springs or boat charter costs, and use of all equipment including mask, fins, snorkel, wetsuit, and weights ! This will save you several hundred dollars compared to required pre-purchase from other locations.
At North Florida Divers you have the option to choose between NAUI or PADI for your certification. Most importantly you will have the same instructor throughout the entire course with over 30 years of teaching experience.
Basic Scuba Diver Certification Program
• 385.00 per person for NAUI and 460.00pp for PADI (online class included)
• (Every 6th person in a private group is 100% free)
• Discounts for Military and First Responders
Private Certification
• 1,500.00 per person NAUI/1,600 per person PADI
• 750.00 per person for two private students for NAUI/ 850.00pp for two students for PADI
• All inclusive / flexible scheduling

ADVANCED OPEN WATER DIVER COURSE
• $375.00 (plus dives)
The Advanced Course is what we call the "Real" diving course. Here, you will complete a total of 5 to 6 adventure dives ranging from wreck diving to night diving. This is a hands on course that usually can be completed in one weekend!

NITROX SPECIAL
• $130.00 NAUI (taken with any course)
Take any course with North Florida Divers and take the Nitrox Certification Course for only $130.00 more. This includes all classroom material. Get the most out of any dive and learn how to stay down longer. Earn two certifications in one weekend !

All courses include use of all equipment. At North Florida Divers we pride ourselves on using top of the line rental gear including all weight integrated BC's, high performance regulators, and all students use dive computers!

ALL NAUI eLEARNING COURSES ARE INCLUDED FREE WITH EVERY NAUI COURSE!